And the first "restored" piece is…a rear spring? I do lead an exciting life. Above you can see the new hardware for the spring eye, all comfy in the new metalastic bushing pressed into place.
Following the lead of my friend Steve, who did a similar job on the much more involved springs on his Magnette (MG used fancy rubber pads and other upscale details in their leaf springs, I gather), I bead-blasted the leaves and painted them individually.
I then used this secret ingredient of the back of every leaf (except the main one, of course):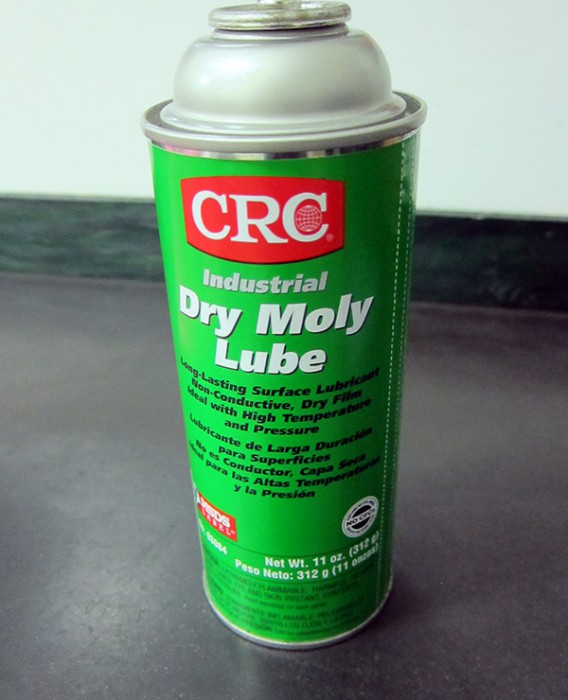 It's a dry lubricant suspended in a volatile solvent. Solvent evaporates, and you're left with a lubricant that will (hopefully) allow the leaves to move a bit against each other. The easier they can move, the more compliant the ride will be. Of course, on a Morgan I think the vertical travel is all of 1/8″, but its the thought that counts.
A new center pin was needed, and of course the u-bolts are new. I don't know if it's Morgan or just this car in particular, but the fasteners have all been shockingly casual, with lock washers being very rare and a surprising number of bolts being coarse-threaded.  I'm adding Jaguar-like levels of washers as I reassemble where it seems prudent.
The rest of the right-side suspension and brakes at hand are gathered as well in the photo above. The shocks — Girling, and not the more common Armstrong — just needed fluid, they seem otherwise OK. We'll see if that's really the case once the car hits the road again.
The new trunnions arrived from England, which is a relief, you can see one back there. I used Caswell's cold black oxide on the fasteners…I genuinely have doubts about it having any durability at all, but I will be top-coating most of these by hand with black paint in any case,
I didn't even look until after I had painted it, but my new shock-mounting plate was sized and drilled for the later Armstrong shocks. Attention to detail, that's my watchword. The original plates were shorter, but I decided to use these anyway as if I need new shocks, Armstrongs are likely and this way the car is ready for them.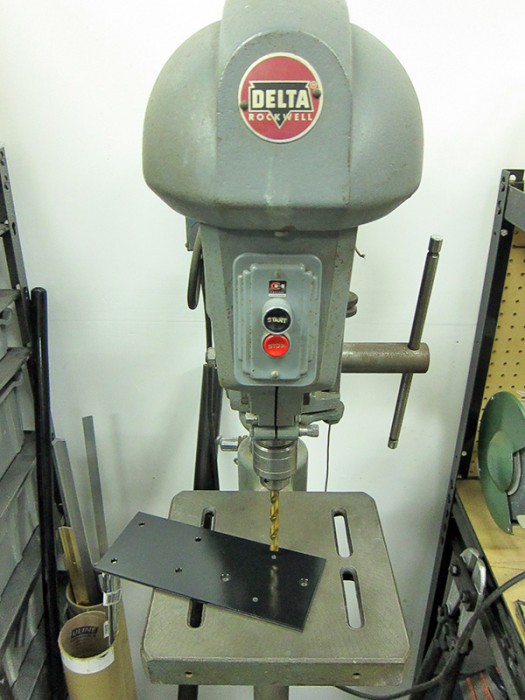 My trusty 15″ Delta press made short work of punching the needed holes. (I've already drilled small pilot holes in this shot.)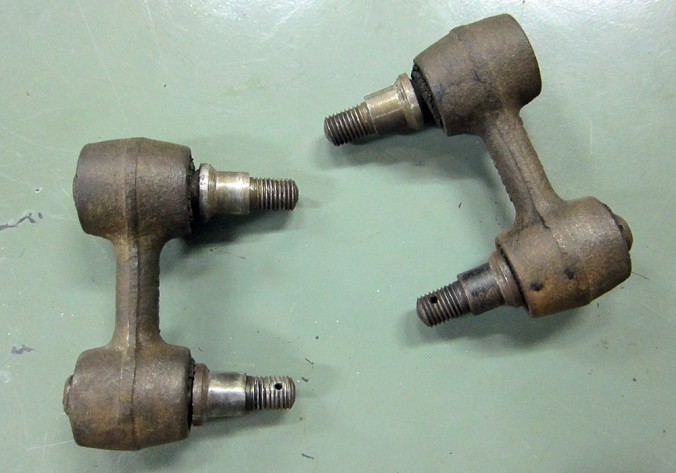 These are the links between the eared u-bolt and the shock. I was hoping to save these, but I don't think it's possible, as the rubber is junk, one of the collars is quite worn, and the entire unit is one piece (ie, vulcanized together). You can buy replacements, but they are fabricated and not cast. I'm still mulling this one over. I can easily clean out the casting and use a metalastic bushing and bolts, but I would need to think about the collars and slightly tapered outer edge. I suppose a lathe would solve that…