The wheels are back for the Morgan and look quite nice–I had them straightened and powder-coated by Factory Direct Tire in Edmonds. Of course, I now need to remove the powder coating from the hubcap "nubs" so they will actually go on. (This is typical of powder-coated parts due to the thickness of the finish, and one of the reasons I rarely have parts powder coated. But it was not much extra on top of the straightening, so why not?)
It's amusing to me that the suspension compressed not a smidge when put onto the ground. Of course there is almost no weight in it at the moment, but you'd think maybe some small fraction of an inch. Not to be. The Firestone tires look great, but with the raised band are just slightly too wide to fit into the spare carriers perfectly. I may have to carry them with a minimal amount of air in them, which is OK with me.
Above is $500 or so of ash timber and void-free plywood to be turned into a Morgan body frame.
In theory, this is a "zero camber" front end, and while it's not apparent in this photo, there is plenty of positive camber, so not sure exactly what that means.
Onward to a slightly more sophisticated car…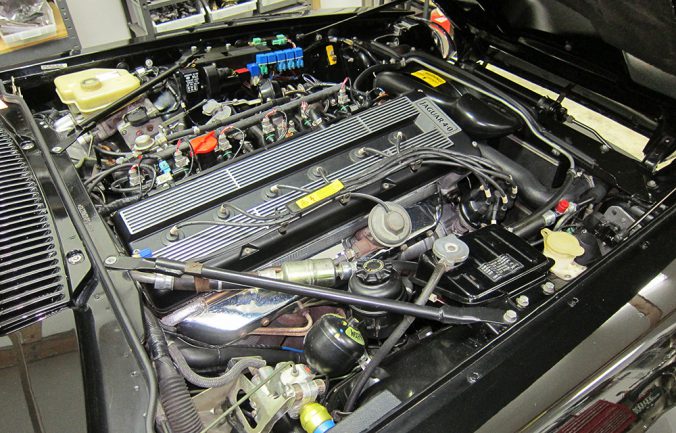 On the XJS, I think more than anything else the transmission issue (intermittent reverse) may be lack of use. I drove it to Bellingham and back this past weekend (about 200 mile round trip) and had reverse every time I tried the gear. I have a filter kit on the way and will change the fluid, as well as the engine oil and air cleaner. I'm also cleaning 20 years of dust and mild grime out of the engine bay, these two photos show my progress. The air cleaner and mass sensor are out, which is just as well, as their small rubber isolation mounts had all failed.
I discovered a split steering rack boot, so that is now on the list. The switch for the passenger window failed (the driver's switch has already been replaced recently), one should be here tomorrow ($10!).
Assuming the transmission is indeed "fixed", the remaining "big" tasks:
The aforementioned steering rack boots
Recharge the A/C, or at least trouble-shoot to see why it's not blowing cold
Decide whether to replace the top and headliner; they are "mechanically" sound but visually let down the car a bit, and are surprisingly "inexpensive" to purchase (though installation looks somewhere between an Miata and E-Type for ease)
Find a new grille, very hard to locate in decent condition
Finish the "detailing"
Have a "paintless dent guy" take out the only dings I have found, on top of the boot lid where someone closed it on god knows what
I suppose I should actually try every accessory, like the heated seats, wipers, remote entry, cruise control, etc and see if they work…
It's not a sports car, but it's very comfortable and gets surprisingly good gas mileage, 18 around town and in the high 20s on the highway.